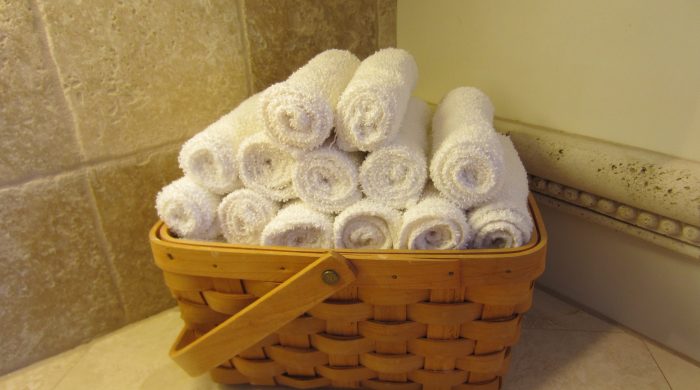 Years ago, when I was struggling to make ends meet, paper towels were a luxury. I used to joke with a friend of mine, telling her when money was tight, "Paper towels are the first thing to go." Now, I can afford to buy paper towels, but I'd still rather be spending money on something else. Why spend so much money on a disposable item? Still, I found myself reaching for a paper towel any time I wanted to dry my hands in the kitchen. I know, some people use dishtowels for that, but I only dry my dishes with dish towels, and I never seem to have enough of those.
Then, a couple of months ago I was in Walmart and spotted some inexpensive white wash cloths on sale. There was my solution. I could use these simple cloths to dry my hands. I bought two dozen. I know, I probably didn't need quite that many cloths, but I had this adorable basket at home that I wanted to fill.  🙂
I hurried home, washed and dried the cloths, and then experimented with ways of folding them and storing them in the basket. Finally, I came up with the solution depicted in the photo above.
First, find a cute basket (I'm not sure why, but I just LOVE baskets!).
To get the "rolled up" look, simply flatten your cloth on the counter and then fold it in half.
Once the cloth is folded, start at one end and roll up tightly.
After the cloth is rolled up, place it into the basket, seam side down. Stack as many as you need to fill your basket (see – that is why I bought two dozen – ha!).
Then just simply place the basket in a convenient spot in your kitchen. These cloths are inexpensive, convenient, and I'm adding less trash to the landfills – always a good thing. I still use paper towels for certain things such as draining grease, but I have probably cut down on my use by at least 90 percent with this simple idea. Let me know if you try it!
Cheryl Shireman is the bestselling author of several novels, including Broken Resolutions, the Life is But a Dream series, and the Cooper Moon series. She is also the author of ten books for toddlers including the eight Let's Learn About series focusing on different animals and I Love You When: For Girls and I Love You When: For Boys.