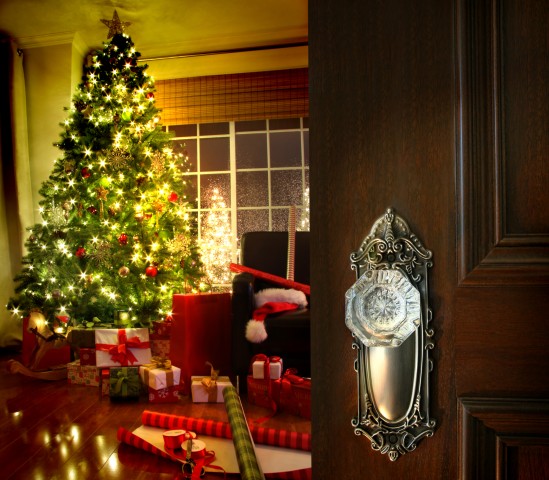 There we are, my parents and me, looking for a Christmas tree. I am ten, a skinny girl with waist-length hair (rarely brushed), and all legs and arms. I'm wearing last year's coat and the sleeves are too short. There is snow on the ground. My feet are cold because I've forgotten to wear my boots. We crunch through the gas station parking lot, circling the various spruce and pine trees that they have trucked in to sell. It is Saturday morning and everyone in Northern Indiana seems to be intent on buying a tree on that particular day. My Dad is a long-distance truck driver. If we don't buy a tree today, I know we won't shop again until next weekend because he has a load ready to take to Shreveport. I am optimistic. We will find a tree today and it will be perfect!
     We weave through the trees, looking for our tree. My dad smokes a Lucky Strike and wears his "funk cap," a black hat made of fake leather and fake fur. It can be worn with the flaps pulled down over your ears, or with the flaps snapped up over the top of the hat. On this day, like most days, the flaps are up. For the rest of my life, when I see a hat of this type, I will think of it as a funk cap. I have no idea where that particular nickname came from, and it will not be until 2012 that I realize these hats are called trapper hats.
     My mom wears the lightest of coats, unzipped, but pulled together to ward off the cold morning chill. She wears a pair of inexpensive vinyl slip on shoes she bought from G.L. Perry, no socks. To this day, I have never seen my mother wear socks. Or gloves. She always seems cold.
     Bursting with holiday excitement, I bounce from tree to tree. "How about this one? This one looks good! Look at this one!" I am intent on taking a tree home, certain that we must buy a tree today. If we wait until next Saturday, all of the good ones will be taken. Or, worse yet, all of the trees will be gone! It is a recurring theme in my life.
     My parents ignore me, probably knowing I just want a tree – any tree! I have very little discernment and am filled with a sense of urgency. My dad suggests driving to another gas station that might be selling trees. I immediately begin praising the closest tree. "This one is beautiful! It's perfect! Look at this one!"
     My dad pulls it away from the other trees for a better look. "It's not bad," he concedes.
     My mother walks around the tree. "There's a big hole in the back."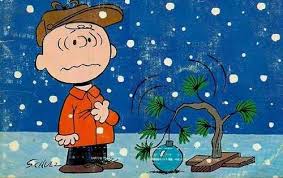 "We could put the bad side toward the wall," I offer. We always put the bad side toward the wall; so really, the tree only has to look good on one side.
My mom shakes her head. "No." She always has final say on the trees. Which is probably a good thing. One year me and my dad went by ourselves to get the tree and came home with a tree only Charlie Brown could love.
     We briefly look at a couple more trees and then my dad says the dreaded words, "Let's go someplace else."
     Despondent, I move back toward the car, certain that we are making a huge mistake. I glance over my shoulder, silently apologizing to the trees that we will not take home. I wonder what happens to the trees that do not find their way into a house.       I think about asking my dad, but keep quiet, deciding I'd rather not know. Before we pull out of the gas station I am hopeful again. We are onto another group of trees. Surely, we will find a tree today.
     We decide on a chubby little tree at the next gas station. Riding home in the car, I am already imagining draping silver icicles over the branches.
     My mom retrieves the metal Christmas tree holder out of the garage. My father trims some of the lower branches on the tree so there will be room for presents. He wrestles the tree into the metal holder, twisting the screws into the trunk to secure the tree. Invariably, every year, he will adjust the tree several times as my mother tells him, "It's still crooked." Eventually they will realize the trunk of the tree is crooked and settle for a slightly titled tree. He fills the tree holder with water and we all stand back to look at the tree, only slightly disheartened. It seems so much bigger in the house. It almost touches a chair on one side and blocks half of the television screen, depending on where you are sitting. It also blocks the only window in the living room.
     Soon, we accept reality. It won't be in the living room that long, and once we get the decorations on, you won't even notice the lean. We spend the next hour putting lights and decorations on the tree. The lights are the big bulbs that used to be on trees years ago. We won't plug them in until we are all done decorating because they get so hot they can burn your arm if you brush up against them. We use an assortment of ornaments; mostly glass ones that we have had for years. Almost every year one is dropped and broken. The remaining ornaments are a bit worse for wear, many of them scratched and faded from years of use.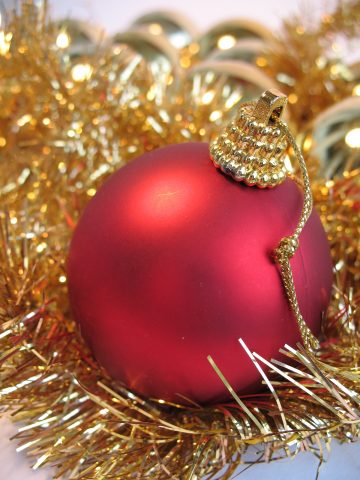 I jump the gun and start draping the silver icicles on the tips of the branches before all of the ornaments are on the tree. It is a greedy move, but like I said, the icicles are my favorite part. I scoop the icicles that fall onto the floor, careful to use every one. My dad puts the star on top and then plugs in the lights. We stand back, the three of us, this little family, and survey the results. The tree is beautiful. A little crooked, donning tacky silver icicles and scratched ornaments, but truly beautiful.
     Day by day, the presents will slowly appear under the tree, each adding a bit more joy. On Christmas morning I will wake extra early and rush out to the living room to find more presents from Santa. We will spend Christmas morning opening gifts next to the crooked little tree and it will be a perfect morning. So full of love and joy that you could not squeeze in one more ounce. When I have kids, we will continue the tradition, all of us decorating the tree together, all of us gathering around the tree to open presents.
     Now, as I write this, my children are all grown and married. My husband and I live in an empty nest. This cold December morning I am working from our family room in the basement. I can see a Christmas tree. It is not a "real" tree. I gave up real Christmas trees very soon after I was first married. I hated the sap. I hated the pine needles that always got stuck in my socks. But, most of all, I hated the sight of that Christmas tree lying next to the road on trash day. It seemed so cold – just discarding the tree like that after it had served us so well. So, I switched to artificial trees.
     From where I write (while The Christmas Story plays on the television), I can see the Red Tree. It is decorated with red and white ornaments and assorted Rudolph-themed figures. Upstairs, on the main floor, there is a twelve-foot Gold and White tree. In the dining room is the Green Tree. The Blue Tree is on the second floor. All of the trees are full sized (or bigger!). A small tree is on my kitchen counter, another small tree sits next to our living room fireplace. On, and one more tree that I bought last year. Number seven.
     My husband thinks I am a Christmas tree hoarder. I might be.
     I'm not quite sure why, but I love Christmas trees. Just walking through the Christmas section of a store can bring tears to my eyes. More than once, my husband has commented, "You're such a sap."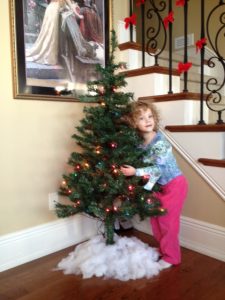 Last year I took my then three-year-old granddaughter Christmas shopping. We bought Christmas presents for her parents. We also bought one more thing. Her first Christmas tree. That seventh tree that now sits by the staircase. She picked it out herself and chose pink ornaments to decorate it. It is a little taller than her and she loves it. To the left is a picture of her hugging the tree. Priceless. Together, we decorated her tree. When she gets older, I will give the tree to her to take to her college dorm or apartment. I hope she will remember decorating it with me. I hope she will keep those memories in a special place where they will never fade. A place where Christmas is always only a few days away, presents are waiting to be opened, and family is near.
     Do you have a Christmas tree tradition? I'd love to hear about it in the "comments" below.