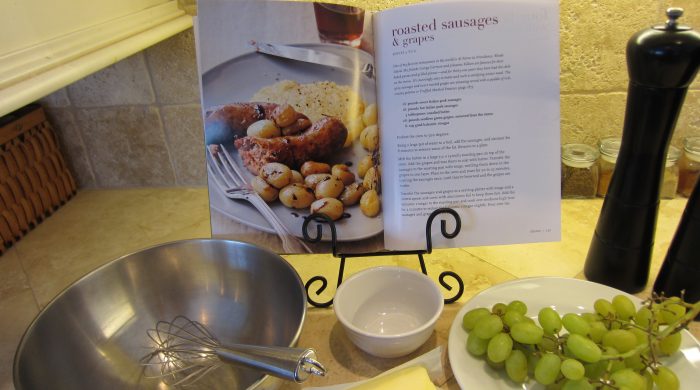 Tired of getting your cookbooks dirty? Have a favorite cookbook you would like to display? Is your counter too small to hold your cookbook, mixing bowls, and ingredients all at once? I have a solution! I don't know why I didn't think of this years ago (maybe you already did!).
Not too long ago, while browsing in Hobby Lobby (Don't you LOVE that store? I could spend hours in there and I always come away with so many great ideas!), I spotted this display stand in the frame section. Immediately, I realized I had the solution to the ongoing battle of keeping my cookbooks clean while making a recipe. The same Darice 12″ Tall Black Iron Display Stand (or one very similar) is available through Amazon if you don't have a Hobby Lobby near you.
You can use the stand to display a favorite cookbook. This one is Barefoot Contessa Foolproof: Recipes You Can Trust one of my favorites.
Or you can use it while making a recipe. It ensures that your cookbook stays clean and makes reading the recipe much 
easier!
I even use the display stand when I am making a recipe I printed from an online source. Just slide the recipe right over your closed cookbook and it stays in place.
This handy stand is also great for when I want to watch a movie in the bathtub using myKindle Fire(just make sure that you keep the Kindle far away from the edge of the tub – but just in case you have an "accident" – after you get done screaming, put your Kindle in a big bowl of dry rice. Make sure it is completely covered. Resist all urges to turn on the Kindle and test it. Leave it in the rice for three days. When you remove the Kindle from the rice, just dust it off and turn it on. I speak from experience – but that's another story).
Cheryl Shireman is the bestselling author of several novels, including Broken Resolutions, the Life is But a Dream series, and the Cooper Moon series. She is also the author of ten books for toddlers including the eight Let's Learn About series focusing on different animals and I Love You When: For Girls and I Love You When: For Boys.