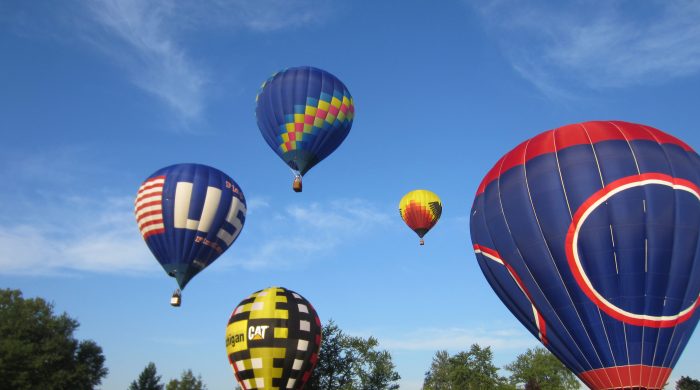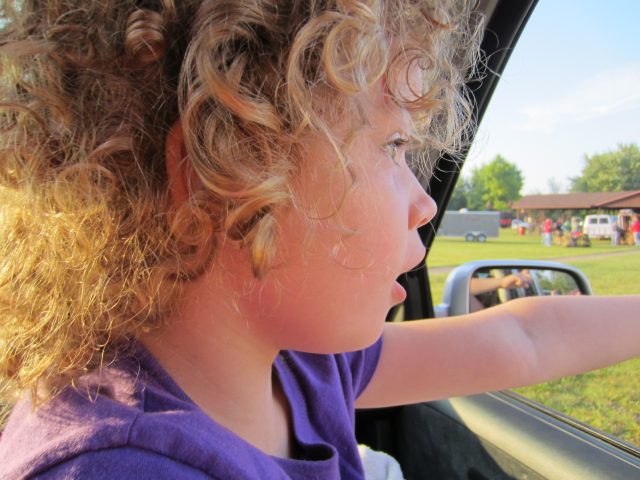 How did you start your morning today? We woke to a 6:30 a.m. alarm, jumped in the car, and headed to the annual Balloons Aloft event. My husband and I went for the first time last year with our then 4-year-old grand daughter, Anna. This year, the three of us jumped into the car and headed to the airport (where the event is held). We were listening to the radio (WLKI) and learned the early morning take off would be at a local park. We parked and were surrounded by balloons! I would guess close to twenty – of a variety of colors and sizes. My grand daughter, Anna, still a bit sleepy, sat in my lap to watch the action!
All around us, balloons were unloaded from trucks and vans, stretched across the grass, and then slowly inflated. It was so fun to watch the various balloons take form and inflate. We were so close that we could not only watch the balloons inflate, but also hear the roar of the fire inside of the balloons.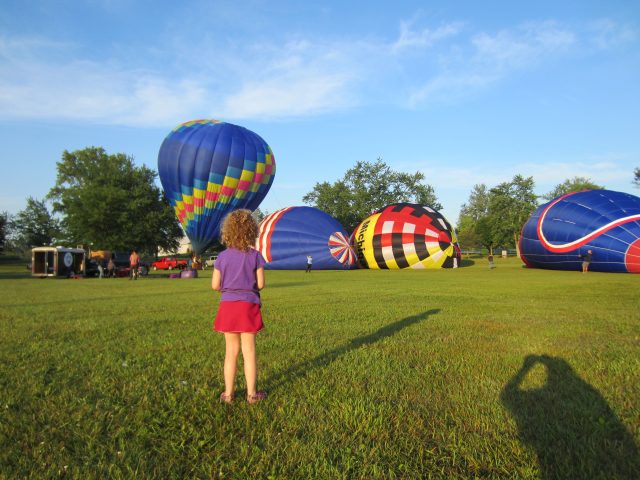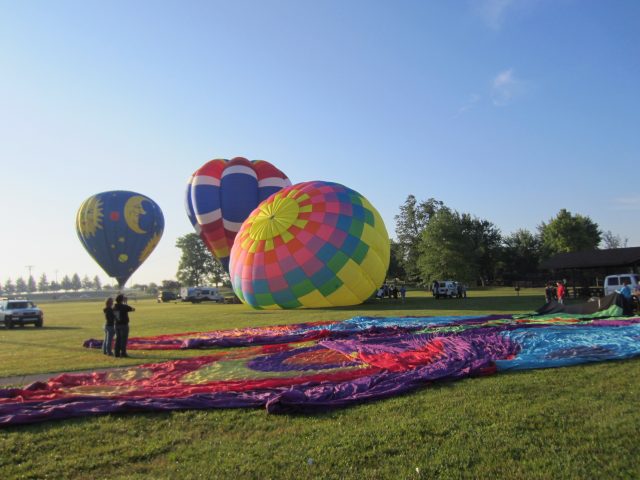 I asked one of the crew members if Anna could touch one of the balloons while it was stretched out on the ground. She was very friendly and responded, "Sure!" Anna leaned over and touched the silky balloon material and told the woman, "The butterfly balloon is my favorite." She remembered the butterfly balloon from last years event. Unbelievably, the woman said, "This IS the butterfly balloon!" Ha! We had no idea. When they are stretched out on the ground, it is difficult to tell what shape these beautiful balloons will take.
So, just feet from the "butterfly balloon" we watched as they inflated it. I felt like a little kid myself as the balloon took shape, developing into a colorful butterfly. I was so glad we set that alarm (although earlier when that alarm went off, not quite so happy about it!). Since the butterfly balloon was so large, it took a while to fill and we had front row seats!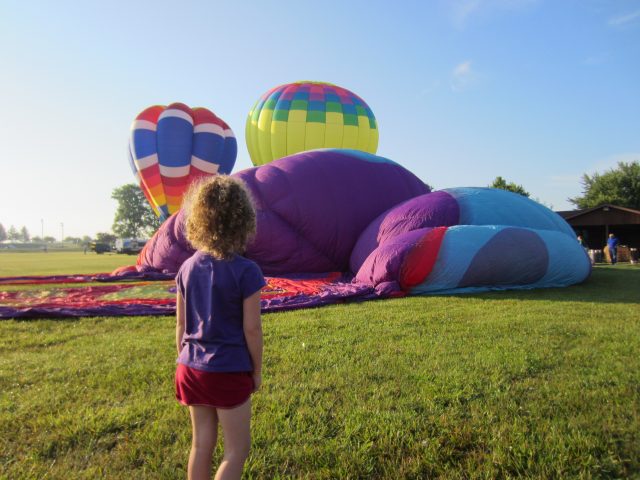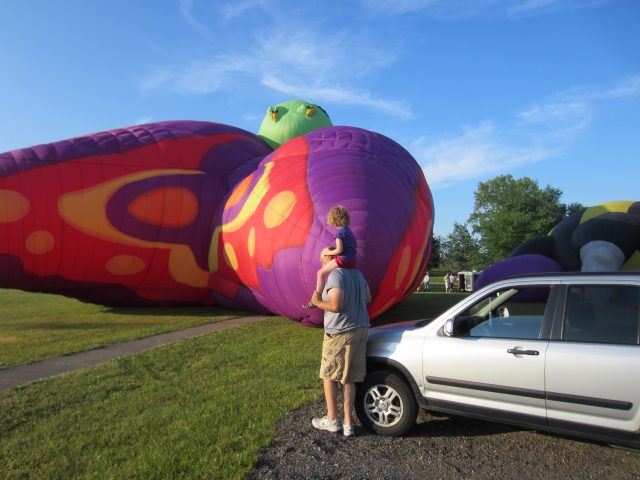 As the balloon continued to inflate, we could see the familiar butterfly shape begin to form. That is my husband and Anna, standing near our car, and very close to the butterfly!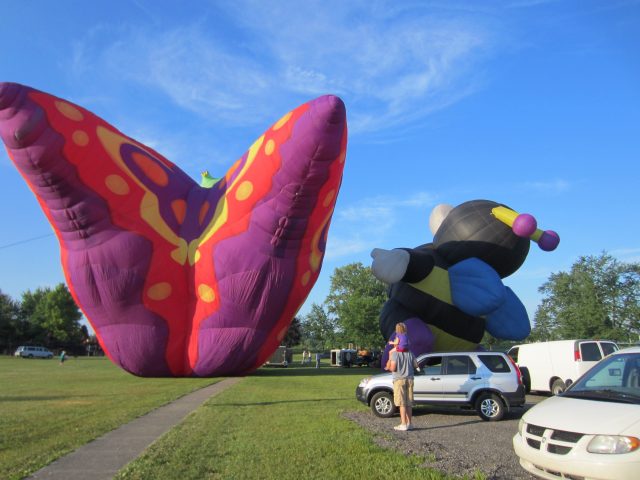 The balloon filled and then stood upright, ready to spread its wings! Right behind the butterfly, a friendly bumble bee was taking shape.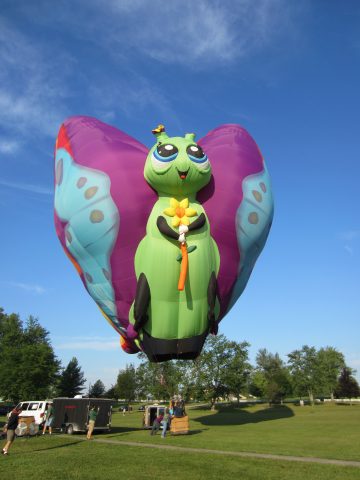 Soon, it was lifting right next to us!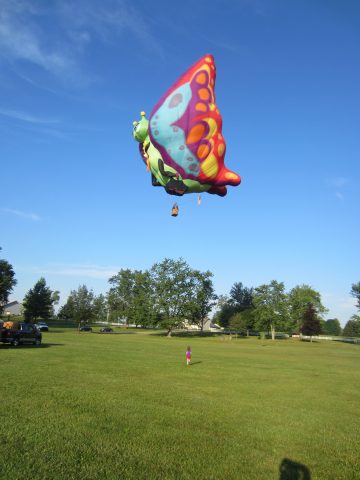 Anna ran under the balloon as it floated away, waving to the balloon that she had named "Shelia" (no idea why – ha!).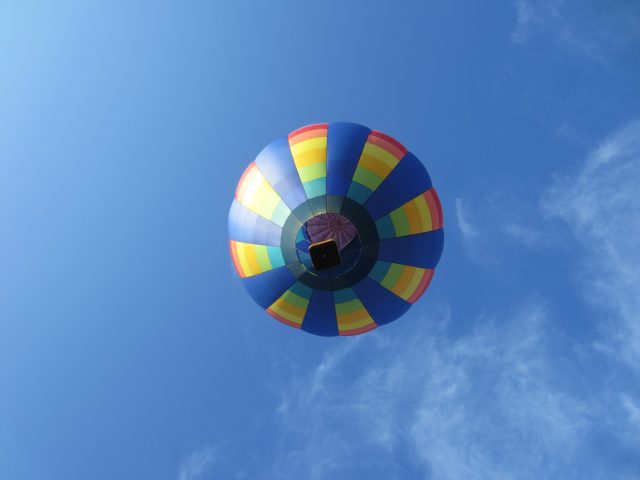 It was a magical morning. The three of us watched balloons inflate and then gently float overhead, the passengers often waving down to Anna. I'm not sure if Anna had more fun or I did! Tonight there will be many more balloons, vendors, and even a car show at the airport. This is a great family event. Best of all, it is free. You are sure to have a wonderful time with your family. Maybe we will see you there!   🙂