Have you ever wondered how to have a Crazy Sleepover? Better yet, do you even know what a Crazy Sleepover is? Unless you live in my house, probably not. The Crazy Sleepover tradition started when my oldest granddaughter (Anna) was just two. She was spending the night and a terrible thunderstorm was headed our way. Instead of putting her to bed and then inevitably getting up in the middle of the night, as thunder rumbled in the distance I turned to her and asked…
Me: You know what I think we should do? (in my very excited voice)
Anna: What?! (even more excited)
Me: Have a Crazy Sleepover!
Anna: Okay! (slight pause) What's a Crazy Sleepover?
And so began a much-loved tradition that still lives on five years later. Here's how we do it.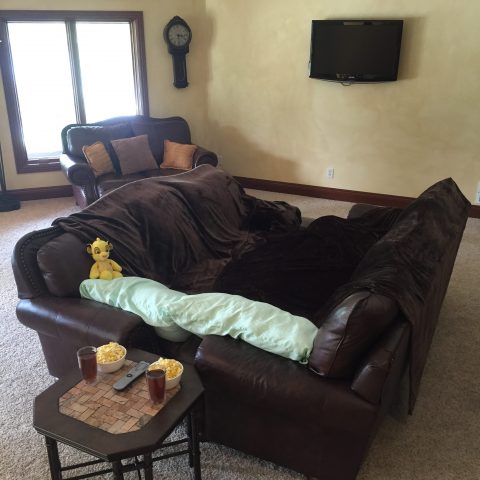 Create a "bed" (no real beds allowed) In our house, a Crazy Sleepover consists of pushing a couple of couches in the basement family room together and covering them with blankets. I sleep on the big couch and Anna sleeps on the smaller one. You can do the same thing with a couch and a love seat for as long as the child can fit. If you don't have two couches, or a couch and a love seat, you can sleep on the floor if your back will comply (mine won't).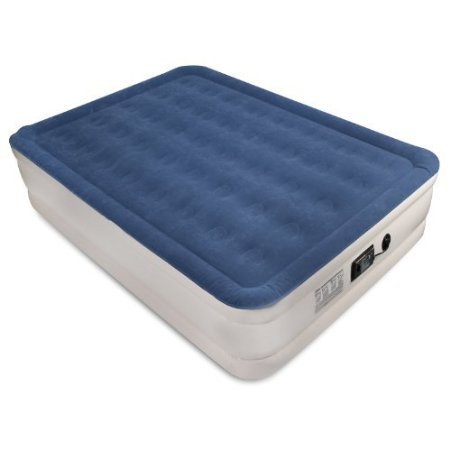 If sleeping on the floor, use something to soften your sleeping area like a stack of blankets or even a yoga mat. If you are going to make this a tradition, you might want to spring for an air mattress. This SoundAsleep Dream Series Air Mattress is the best air mattress I've ever slept on and for only $120 it's a real deal. It is queen-sized (you can also get in in a twin), has built in coils, and an electric pump that quickly inflates it. Two adults can fit on it comfortably (my husband and I spent ten nights on one of these while visiting our daughter in Texas and he is six foot four) so you will have plenty of room for you and a child or two. We keep one on hand just in case we have a lot of people sleeping over (We live on a lake – it happens).
Place a small table nearby to hold your snacks, drinks, and the remote. A couple of paper towels (just in case) might not be a bad idea either. When we first started having Crazy Sleepovers Anna drank from a sippy cup, now we like these Tervis Tumblers. They have an unconditional lifetime guarantee and keep your drink cold or hot for hours. A pack of 4 eight-ounce glasses is about $28 but they will last for years. You can even buy lids for them which makes them great for travel, camping, boating, etc. Perfect for that morning cup of coffee on the go or a nice cold drink on the boat!
Get into your pajamas as soon as possible. Don't wait until it is bedtime to begin your Crazy Sleepover. Get in your bed a couple of hours before your actual bedtime. Wear cozy pajamas and make sure your grandkids bring cozy pajamas from home (I keep pajamas at my house for my grandkids so I'm always prepared!).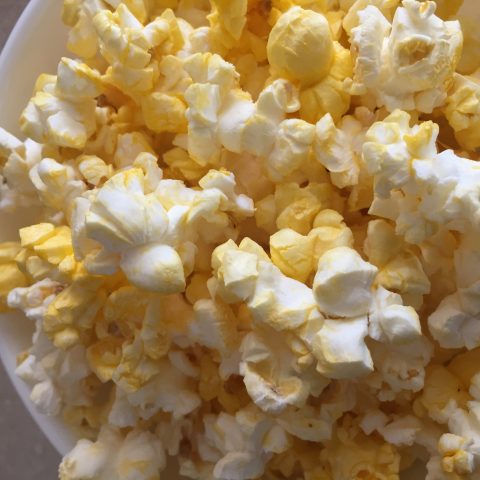 Make a snack. At our house that snack is always popcorn. One bowl for me and one for Anna. Whatever snack you choose, make sure it isn't too messy and that it is easy to eat with your fingers. Veggies and dip, cheese and crackers, and fresh fruit all work well. Or if you're really wanting to treat yourselves, scoop some vanilla ice cream into a couple of bowls and have lots of toppings available for your grandchild to make a personalized treat. Candy sprinkles, M & Ms, coconut, tiny marshmallows, chopped peanuts, cherries, and flavored syrups are sure to please.
Pick a movie. Our Crazy Sleepover go to movie is The Wizard of Oz. I've seen this movie waaaay more times than I even want to admit. My suggestion to you would be to choose a different movie every time. When Anna asked to watch The Wizard of Oz for our second Crazy Sleepover I said yes. That might have been a mistake. Now, it's The Wizard of Oz every time (that's a lot of flying monkeys!). There are so many great movies to choose from. Just the Disney catalog alone could keep you watching for years. If you have granddaughters, chances are you've probably already seen Frozen, always a good choice. Another great Crazy Sleepover movie is Up. This is an animated feature that you are apt to enjoy as much as your grandchild (maybe more!). It doesn't matter if you actually finish the movie. In the early years, most often we did not. Dorothy would land in Oz and somewhere along the journey down the yellow brick road Anna would turn to me and say, "I'm ready to go to sleep, Bomb Bomb" (that's what she calls me – how cute is that?)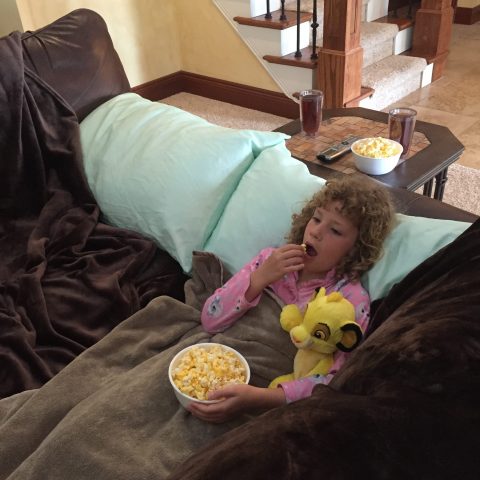 Take some pictures. I've taken a couple of photos of our Crazy Sleepovers during the past few years but I wish I would have taken more, especially that very first night. I never knew that pushing those two couches together would become a tradition that we would both cherish.
If you have your own version of Crazy Sleepover, let me know about it in the comments below. I'd love to hear about your tradition too!