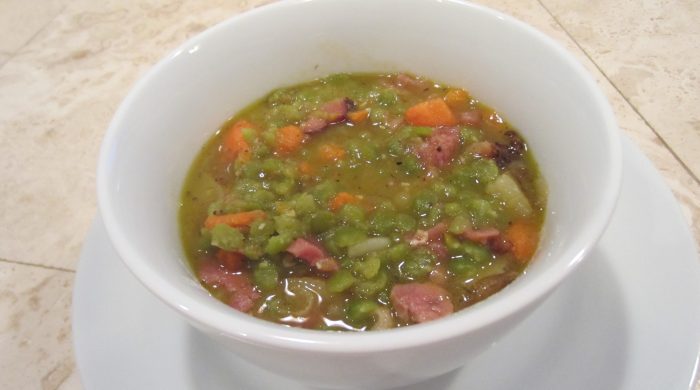 I'm not a big fan of peas. Never have been. But I love this Split Pea and Ham Soup. I couldn't find a recipe that I liked, so I experimented until I came up with a recipe that is easy and delicious!
Ingredients:
2 quarts of chicken stock
1 to 1 1/2 pounds of ham cut into small bite-sized pieces
1 large onion, diced
1 pound carrots, diced
5-6 large potatoes
1 teaspoon dried oregano
1 pound dried split green peas
Pepper to taste
Note – do NOT add salt to this recipe since the ham already has salt in it
1 tablespoon minced garlic (in this recipe I used the minced garlic that comes in a jar)
Directions:
Combine all in a large pot and bring to boil.
Simmer until the potatoes are cooked and easy to puncture with a sharp knife.
Great served with cornbread. I also like to chop some jalapeno and add it to my personal bowl. Yummy!
Helpful hint – After I add the chicken stock to the pan I add some water to the empty cans/containers and set them aside. As the soup cooks, if it looks too thick I add this water to the soup.
Cheryl Shireman is the bestselling author of several novels, including Broken Resolutions, the Life is But a Dream series, and the Cooper Moon series. She is also the author of ten books for toddlers including the eight Let's Learn About series focusing on different animals and I Love You When: For Girls and I Love You When: For Boys.