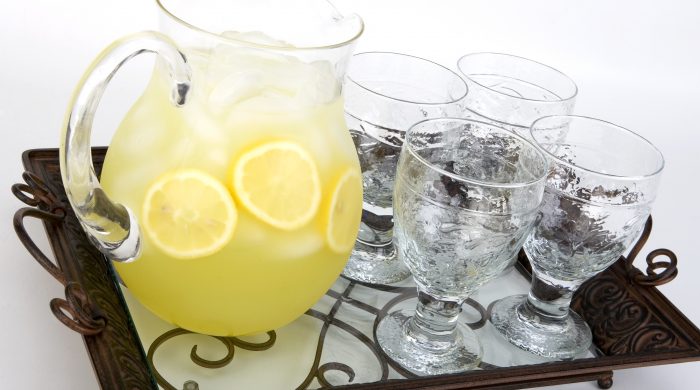 There is nothing like lemonade on a hot summer day. I have tried many lemonade recipes, but never found one that I loved. Most were too sweet. So, I did some experimenting and came up with this one. Give it a try. I think you will love it.
For something different, try adding raspberries, strawberries, or blueberries!
INGREDIENTS:
1 1/4 cup sugar
8 cups of water
1 1/2 cups of freshly squeezed lemon juice
DIRECTIONS:
In a small saucepan, combine sugar and 1 cup of the water. Bring the mixture to a boil, stirring to dissolve the sugar. Set aside to cool.
Squeeze enough lemons to get 1 1/2 cups of lemon juice. Take care to remove seeds. You may leave the pulp in if you wish. Add lemon juice to a pitcher.
Using a rubber spatula to scrape the pan as clean as possible, add the sugar and water mixture to the lemon juice in the pitcher.
Use remaining 7 cups of water to "rinse" the remaining sugar mixture from the saucepan – pouring a little water into the pan, stirring with the rubber spatula, and then pouring the water into the pitcher. Repeat until saucepan is relatively clean. Add remaining water to pitcher and chill.
Serve over ice.
Cheryl Shireman is the bestselling author of several novels, including Broken Resolutions, the Life is But a Dream series, and the Cooper Moon series. She is also the author of ten books for toddlers including the eight Let's Learn About series focusing on different animals and I Love You When: For Girls and I Love You When: For Boys.