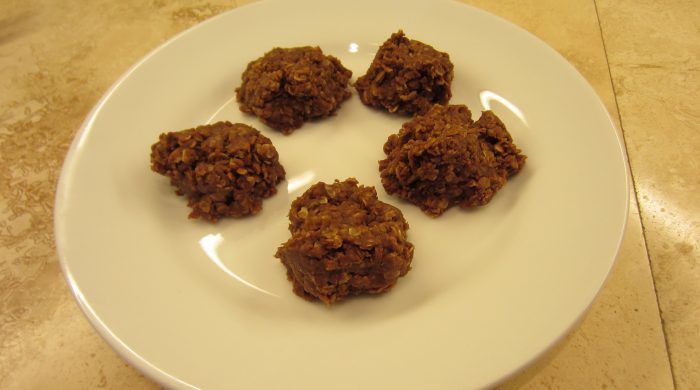 Looking for an easy and yummy cookie recipe? Here it is. If you love peanut butter and chocolate, this cookie recipe is for you!
The first time I had these cookies was in high school. Years later, when I discovered how easy they were to make, they became a favorite cookie to make with my kids. They are simple to make and require just a few ingredients that you probably already have on hand. Makes about two dozen.
INGREDIENTS:
2 cups sugar
4 tablespoons cocoa
1 stick butter
1/2 cup milk
1 cup peanut butter
1 tablespoon vanilla
3 cups oatmeal
DIRECTIONS:
Combine the sugar, cocoa, butter, and milk in a medium-sized saucepan.
Bring to a boil, stirring occasionally. Boil for one minute.
Turn heat off and add peanut butter, vanilla and oatmeal. Stir until well mixed.
Drop by rounded tablespoons onto waxed paper or parchment paper. Note – if you are making these cookies with children, be sure they are cool enough to touch before allowing the kids to handle the cookies. They are quite sticky and can burn little hands if you try to form them too quickly.
Let cool for a short time (yeah, right) and then enjoy!
Cheryl Shireman is the bestselling author of several novels, including Broken Resolutions, the Life is But a Dream series, and the Cooper Moon series. She is also the author of ten books for toddlers including the eight Let's Learn About series focusing on different animals and I Love You When: For Girls and I Love You When: For Boys.