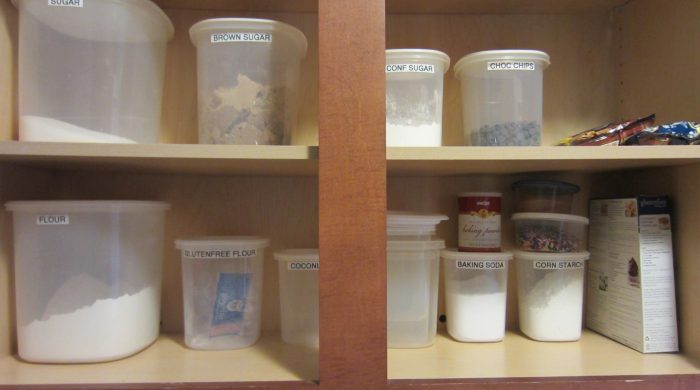 I like to keep my kitchen counters relatively free of clutter. The idea of canisters on my counter for flour, sugar, etc. does not appeal to me. Instead, I keep these items hidden in my cupboard in Rubbermaid storage containers.
I even used by husband's label maker to label the containers (I totally made fun of him when he bought that label maker but I loved using it for this – don't tell him!) Labeling the items might seem a bit excessive, but when you store items such as regular flour and gluten-free flour, labels are really important.
I also used different sized containers, depending on the item. Obviously, I need a larger container for flour than I do for chocolate chips.
I bought my containers years ago (probably at Walmart), but I found some similar ones on Amazon if you don't have a Walmart in your area. They come in a variety of sizes – Rubbermaid Dry Food Container
Cheryl Shireman is the bestselling author of several novels, including Broken Resolutions, the Life is But a Dream series, and the Cooper Moon series. She is also the author of ten books for toddlers including the eight Let's Learn About series focusing on different animals and I Love You When: For Girls and I Love You When: For Boys.