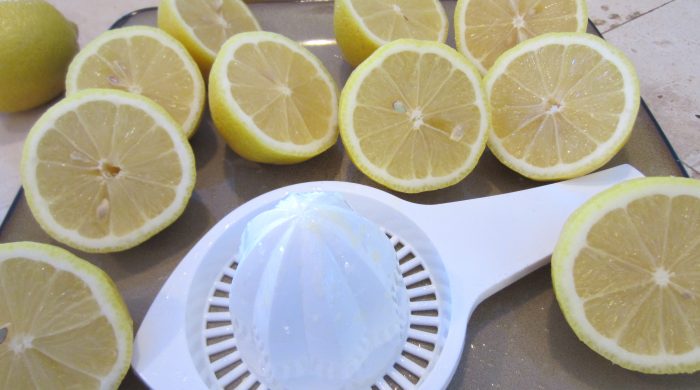 I enjoy drinking water with lemon, but don't always like to take the time to stop what I am doing to squeeze a fresh lemon into a glass. I've tried a few things to get around that task. I've tried putting a large container of water in the refrigerator with lemon slices. That tastes fine when the lemons are first put into the container, but after a day or two, the water tastes too bitter. I've tried a couple of drops of concentrated lemon juice, but I don't like the flavor as well. I tried freeze lemon slices and just adding them to a glass of water. That didn't work so great either. But just last week, I came up with a solution!
While juicing a lemon one morning, I thought – why couldn't I just squeeze a bunch of lemons and freeze the juice in an ice cube tray? So, I did. And it worked great! The next time I wanted a glass of lemon water, I just dropped a "lemon ice cube" into my glass and then filled it with water. Instantly, I had water with lemon that tasted just like fresh squeezed. I couldn't tell the difference, and this is certainly more convenient that squeezing a lemon every time you want a glass of water. Here's how I did it: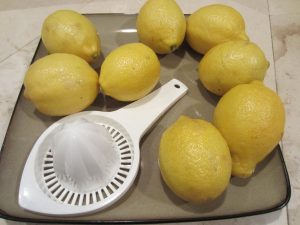 You will need 6-8 lemons (depending on the size), a plate, and a lemon juicer. I use a square plate (I will explain why later) and an inexpensive juicer I have had for years.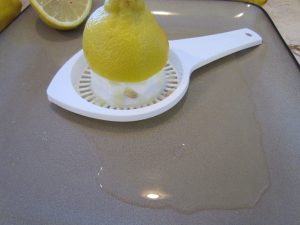 One at a time, cut the lemons in half and juice them onto the plate. Discard the lemon after juicing.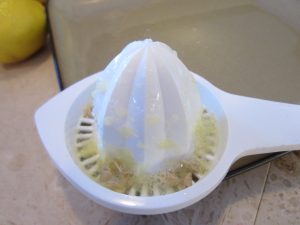 Discard the pulp and seeds that the juicer catches. Be sure to check the plate for any seeds that might have found their way into the juice and throw those away.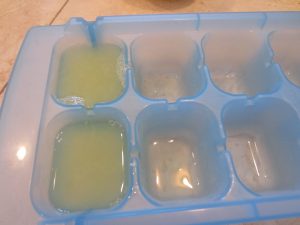 After you have juiced five lemons, pour the juice into a plastic ice cube tray. I use a square plate because it is easier to pour from into the ice cube trays. The juice should come close to the top of each compartment, but it doesn't have to be exact. If it looks like need more juice, juice more lemons until you have enough to fill your ice cube tray. The photo to the left is the juice of one average sized lemon. I like to use one ice cube per drink – giving me the juice of half of a lemon in a large glass of water. I used six average sized lemons to completely fill this ice cube tray. When the tray is full, put the ice cube tray in the freezer and freeze the lemon cubes until firm.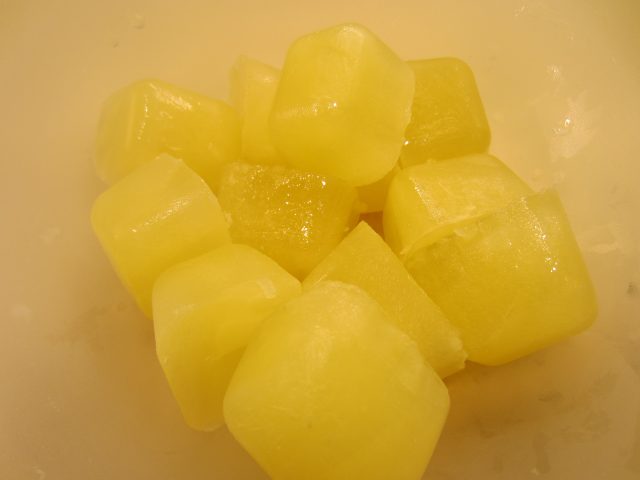 When the ice cubes are ready, remove them from the ice cube tray and place them in a freezer proof container. Next time you are ready for a glass of water with lemon, or need a little lemon juice for a recipe, you won't have to take the time to squeeze a lemon!
Cheryl Shireman is the bestselling author of several novels, including Broken Resolutions, the Life is But a Dream series, and the Cooper Moon series. She is also the author of ten books for toddlers including the eight Let's Learn About series focusing on different animals and I Love You When: For Girls and I Love You When: For Boys.