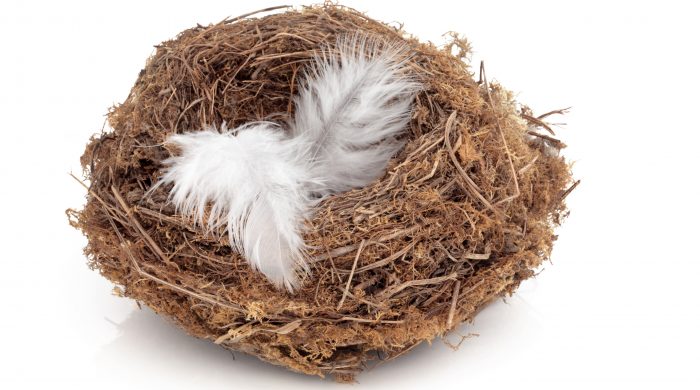 My husband and I live in an empty nest. An empty nest. I've never given that phrase much thought, but lately it has been on my mind a lot. Empty – that certainly has a negative connotation doesn't it? And it did take some getting used to. When my son entered college, it was exciting. He entered a college not far from our house and remained at home. He came and went, and life didn't change that much for me.
When my next child went to college, it was over three hours away. She moved out. To this day, I can remember pulling away from Indiana University. I looked over my shoulder to see her walking up the front steps of her dorm building, her bottom lip quivering. Just a moment before, she had been smiling and waving as we pulled away. So had I. As I turned back in my seat I crumbled and cried for the next hour. It was horrible. I think I was depressed for six months. I'm sure at some point or other I probably walked into her room and smelled her pillow. Yes, I know. Pathetic.
Then my last child – another daughter – left home to join her sister in Indiana University. This time I didn't cry. Because this time as we pulled away, we were waving to both of our daughters. They were in my youngest daughter's car driving just ahead of us. As we came to the spot on the road where we had to split to go home, we all waved at each other. I knew the girls were laughing, listening to music, and ready to start an adventure together. My happiness for them outweighed my feelings of loss. It was a good day.
Then graduations and marriages followed for all three of my children. My son and his family live only half an hour away. My daughters, however, have lived in assorted places – Oregon, Kentucky, Maryland, Texas, Denmark, and New York City. We do visit each other often, and that is wonderful.
Still, it leaves my husband and me in a house that is way too big for us. And it's not even the house that the kids grew up in. We bought this house after the kids were all gone. And this house is even bigger than the last. Yes, that's right. We bought a bigger house – looking forward to their visits and filling the house with grand kids. But lately, I'm slowly starting to realize that we didn't buy this house for ourselves. Even though all of the "kids" were long gone, we bought a place they could come home to. We have a guest room. We have a room just for grand kids – complete with a castle-themed bunk bed and a baby crib. We have a high chair in the dining room, a play pen in the basement, and one of our walk in closets has been turned into a toy room.
This is a home for family gatherings. The problem is we spend a lot of time alone in this house between gatherings. A lot of vacuuming, dusting, and washing sheets. At times I feel like I'm running a small bed and breakfast. Don't get me wrong – I LOVE our family gatherings. They are the best! Playing games, eating good food, and spending time on the lake – we are very blessed. I know that.
But, lately, I've been wondering if my home is really mine. Is this lovely home actually a reflection of the life my husband and I want to live – or a way of holding onto my past? A way of "keeping" my kids in the house? I've come to realize, even though I live in an empty nest, I'm still feathering that nest for my children and grandchildren.
It makes me wonder – is it time to let go of those feathers and spread my wings instead?
About nine months ago, my husband and I visited Hawaii for the first time. I was at a low point – exhausted from dealing with hypothyroidism (long story for another time) and depleted emotionally, physically, and mentally. I woke up one morning and said, "Let's go to Hawaii." It made no sense. At all! We couldn't really afford to go and it was so out of the blue – so spontaneous and crazy. But I desperately needed out of the blue, spontaneous, and crazy. And more than that, I needed to walk on a beach. And then walk on a beach some more. I was so ill and I couldn't get well. I felt like I was dying. I needed to change my routine – shake up my life, and break free from illness.
We were in Hawaii for almost a month. We spent half of our time on the island of Oahu, and the other half on Kauai (for more on our trip read Hawaii Dreaming On Such a Winter Day). While we were there, walking on mile after mile of white sugar beaches, I thought – why don't we live here? I'm sure that thought crosses the mind of every visitor to these lush islands. Who wouldn't want to live in paradise? But, then, I started to realize – we could live in Hawaii. It was possible. We'd have to sell our house and then…
That's where I got stuck. Sell our house? Our dream house? The gathering place for our kids and grandkids? Sell that house? And that's where I stalled. I reasoned – we could sell our current home and buy two very small homes. Live part of the year here (to be close to family), and live part of the year in Hawaii. Maybe even rent out the Hawaii place while we weren't there. Keep a foot in both worlds and stay close to the kids.
As I started thinking about a new house, I started thinking about a location and a floor plan that would be family friendly. I was doing it again – feathering another nest (albeit a smaller one) for my children who left the nest long ago. Isn't it time to let go of all of that? Isn't it time to live my life? Isn't it time to start thinking about what I want? How I want to spend my days now that we have entered a new stage of our life? Here we are – footloose and fancy free and able to go anywhere, move anywhere, live anywhere. And yet. And yet.
Now, nine months after our return from Hawaii, here I sit. In a very large empty nest, waiting for my baby birds and fluffing up the feathers for their return. But, once in a while, I lift my gaze from the nest and look toward the horizon….
Cheryl Shireman is the bestselling author of several novels, including Broken Resolutions, the Life is But a Dream series, and the Cooper Moon series. She is also the author of ten books for toddlers including the eight Let's Learn About series focusing on different animals and I Love You When: For Girls and I Love You When: For Boys.