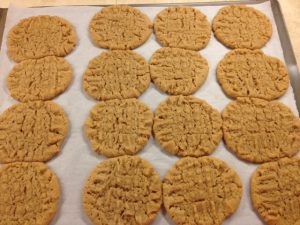 Okay, I admit it. I didn't know what gluten was a short time ago. Now, I not only know what gluten is, I am staying away from it and I feel better than I have in years. Yes, years! Even if you don't care about gluten, you have to try these cookies. Simple and delicious! If you are interested, in learning more about the gluten/hypothyroidism connection, check back for a future post on the issue. Right now, though, I just want to share this recipe for Gluten Free Peanut Butter Cookies!
These are so easy to make, and I couldn't tell the difference between these and "normal" peanut butter cookies (made with flour). Best of all, there are only five ingredients and you probably have all of them on hand.
If you or someone in your family has issues with gluten, you must try these cookies! If you do, let me know how you liked them in the "comment" section. I'd love to hear from you!
INGREDIENTS:
1 cup creamy peanut butter
1 cup sugar
1 egg
1 teaspoon of vanilla extract
1/2 teaspoon baking soda
1. Preheat oven to 350 degrees.
2. Combine all ingredients in a large mixing bowl and mix with a hand mixer for about one minute.
3. Using about a tablespoon of the mix, roll into balls and place on cookie sheet. If you want smaller cookies (makes 32) use a tablespoon of the mix. If you want larger cookies (makes 16), use about two tablespoons of the mix.
4. Make a crisscross pattern with the tines of a fork on each cookie.
5. Bake for about 10-11 minutes.
6. Pour yourself a cold glass of milk and eat two or three while hot!
And be sure to come back here and let me know how you liked the cookies in the "comments"! You are gonna love 'em!
(Note – the cookies depicted in photo are the larger cookies. I was too lazy to bake two batches! They don't look as good as the smaller cookies, but they don't last long, so who cares!)
Cheryl Shireman is the bestselling author of several novels, including Broken Resolutions, the Life is But a Dream series, and the Cooper Moon series. She is also the author of ten books for toddlers including the eight Let's Learn About series focusing on different animals and I Love You When: For Girls and I Love You When: For Boys.