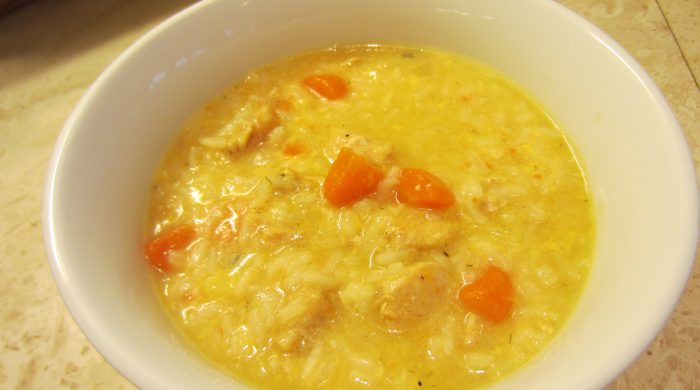 This is the perfect soup for a cold Sunday afternoon. I came up with it last week while snow piled up outside our home. It was the perfect antidote to a cold winter day!
INGREDIENTS:
2 pounds of chicken cut into small pieces
2 tablespoons olive oil
4  large carrots, peeled and diced
2 stalks of celery, diced
1 large yellow onion
2 tablespoons butter
1 tablespoon Italian Seasoning
1 teaspoon black pepper
2 quarts chicken stock (homemade is best, but canned will work)
2 cups of water
2 cups of uncooked rice
2 cups Monterey Jack cheese, shredded
DIRECTIONS:
In a large dutch oven (or whatever large pan you use to make soup), add the chicken and olive oil. Over medium heat, cook until chicken has lost all pink color, stirring occasionally. If you would like, you can even brown the chicken a bit in this stage but it is not necessary. In this case, I did not.
Add carrots, celery, onion, butter, Italian Seasoning, and pepper to the chicken. Cook over medium heat until the vegetables are softened a bit.
Add chicken stock and 2 cups of water. I prefer homemade chicken stock (here is my easy, fun, & economical recipe). Obviously, in this case, my chicken stock was frozen.
Heat the mixture up until it is hot again.
Add two cups of rice, bring to boil, and then turn heat to simmer until rice is soft and cooked (I forgot to time it – maybe half an hour?). While the soup cooks, stir it occasionally and add water if it looks too thick.
This last step is optional (if you just want Chicken and Rice Soup). Actually, when I was creating this recipe, the cheese was an afterthought. The only cheese we had in the refrigerator was shredded Monterey Jack. I thought, why not give it a try? Now I am glad I did! Add 2 cups (or 3 if you are feeling really wicked) of shredded cheese to the soup. Stir until the cheese is melted.
Enjoy!
Cheryl Shireman is the bestselling author of several novels, including Broken Resolutions, the Life is But a Dream series, and the Cooper Moon series. She is also the author of ten books for toddlers including the eight Let's Learn About series focusing on different animals and I Love You When: For Girls and I Love You When: For Boys.