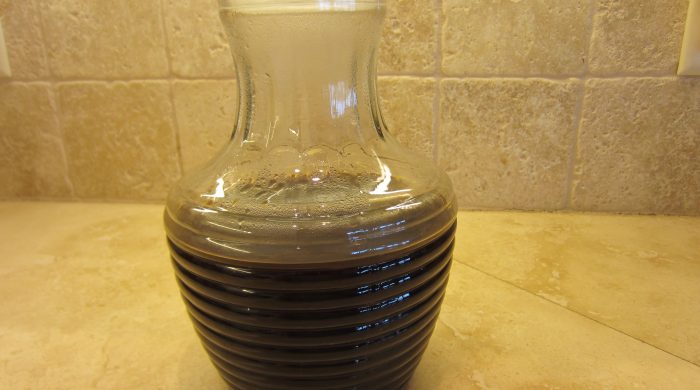 Looking for an alternative to those expensive drive-thru coffees? I was, and I found one. First – let me admit I was hooked on McDonalds iced coffee. My husband and I both work from home, but every morning I had him in the car for a trip to town to buy a "Large Sugar-Free Vanilla Iced Coffee." Just typing those words makes me kind of happy. Pathetic, but true. These coffees are delicious, sugar free, and relatively inexpensive. Right? Right. But when you buy one every day – and you make a trip into town just to buy that coffee – after two or three years it gets a bit ridiculous.
So, I kicked the habit and started making my own iced coffee at home. It is quite easy, inexpensive, and you can make a wide array of flavors. Here's how:
Make coffee just as you would in your regular coffee maker, using two 1/3 cup scoops of coffee. I use one scoop caffeine and one scoop decaf, but use whatever you would normally drink. I even leave the scoop right in the coffee canister. It is easier than looking for it every time.
After brewing the coffee, pour it into a large mixing bowl to cool – maybe half an hour or so.
Using a funnel, pour the coffee from the mixing bowl into a 2 quart container.
I like this one from 2 quart container from Anchor Hocking because it has a lid that seals tight.
Put the container in the refrigerator.
When you are ready for a coffee, simply add some ice to a glass and add your favorite creamers and sweeteners. I like the 
little International Delights creamers and just a little sugar.
Now, let's get real – this is my coffee cup. My son bought it for me years ago after our ride on the Durango-Silverton Narrow Gauge Train in Colorado. It is a bit worse for wear, but it brings back happy memories every time I use it.
I also don't bother with glass because the coffee is already cold from the refrigerator and my oh-so-awesome cup keeps things cold. Any thermal cup will work (and probably look better than mine!).
TIP – If you want ice cubes, but do not want your coffee to be watered down, pour some cooled coffee into ice cube trays and make coffee ice cubes. When these cubes melt, they will add even more flavor to your iced coffee!
Cheryl Shireman is the bestselling author of several novels, including Broken Resolutions, the Life is But a Dream series, and the Cooper Moon series. She is also the author of ten books for toddlers including the eight Let's Learn About series focusing on different animals and I Love You When: For Girls and I Love You When: For Boys.