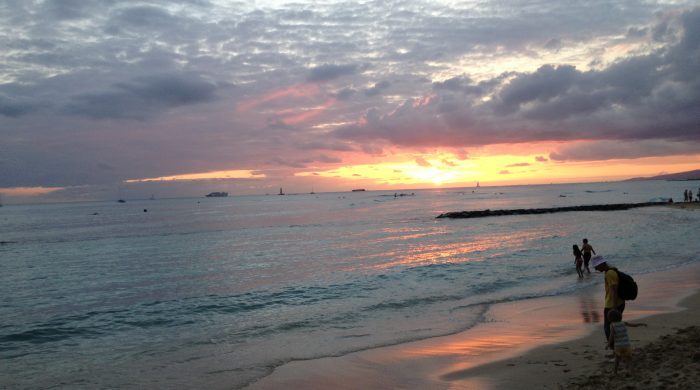 I ran away to Hawaii this spring. It was a much needed escape. My husband joined me. We walked on sugar white beaches, witnessed glorious sunsets, and fell in love. Not with each other; we did that a long time ago. But with Hawaii. I suppose many people do, but for me, it was unexpected. I have always been more of a mountain girl. Although I live in Indiana, I am at home in the majestic Colorado Rockies. I love visiting Colorado and have spent many visits backpacking its mountains. I have never been particularly fond of beaches. Its not that I dislike beaches, but one can only snooze on a towel for so long. But that was B.H. – Before Hawaii. Sigh…
It was an impromptu trip. I woke one morning, rolled over in bed, and said to my husband, "Let's go to Hawaii." As you might imagine, he was a bit surprised. There were a myriad of reasons not to go – most of them financial. But I also knew I had to go. I'd been dealing with illness (post on my struggle with hypothyroidism coming soon) for over two years. I was mentally, physically, and emotionally exhausted. I had never been so low in my life, so bankrupt of emotion and energy. I needed to get away. I needed to walk on the beach. And then walk on the beach some more. Most of all, I needed to be away from my life – I needed to make a break in my then daily cycle of illness, insomnia, and despair. So, we went. We spent part of March and April in Hawaii – our time split between the islands of Oahu and Kauai.
Our airplane landed in Honolulu. From the airplane window, I could see long stretching beaches and water so incredibly turquoise that it defies description. As soon as we stepped into the airport, I was enchanted. As we walked through the terminal, we were delighted to find many of the "walls" of the airport were missing! Where we might have large windows in the mainland, instead there were open walls with breezes whispering through the terminal. Midwest hicks that we are, we moved through the airport, mouths agape, staring at nearby tropical flowering plants and wondering how they kept the birds out.
We hurried to baggage claim, retrieved our luggage, and then found the rental car kiosk. While we waited in line, I kept looking wistfully toward the stand displaying handmade tropical leis, but my husband never took the hint. We drove to our hotel, checked in, and changed into lightweight clothing for a walk toward the beach. It was a pleasant walk through upscale shops and local restaurants toward the beach. It was probably only about a half-mile walk. One thing you quickly learn in Hawaii is that you are never far from the beach.
We arrived at the famous Waikiki Beach, did a little wading in the ocean, and then strolled along the sidewalk that runs the length of the beach. It is an incredible walk – the shops, restaurants, and high rise condos on one side, and a beautiful stretch of beach, tropical trees, and ocean on the other. Although we were both tired from the long flight and running on very few hours of sleep, neither of us wanted to miss a moment of this evening. As we walked, we spotted an incredible site – a magnificent Banyan tree. Neither of us had ever seen one, and it was so unique with its drooping roots that we we felt like explorers in a new land. Which, indeed, we were!
Continuing to walk down the sidewalk, we came upon Waikiki Pier. It was so beautiful that we could not resist sitting on the pier and just absorbing the view and the moment. Children played on boogie boards nearby and we watched them for almost an hour as the sun slipped toward the ocean. As sunset drew near, we started our walk back to the hotel, often stopping to snap shots of the sunset as we made our way. The photo at the beginning of this post is one of the photos we snapped. With such outrageous beauty, it was almost impossible to take a bad photograph. The sunset felt like a gift and a hint of things to come.  It was.
To be continued……
Stop back for more posts! If you are planning a trip to Hawaii, let me know in the comments. I would be happy to answer any questions I can from my experience. Or if you visited Hawaii, please feel free to share your trip tips in the comments! Thanks for stopping by.
Cheryl Shireman is the bestselling author of several novels, including Broken Resolutions, the Life is But a Dream series, and the Cooper Moon series. She is also the author of ten books for toddlers including the eight Let's Learn About series focusing on different animals and I Love You When: For Girls and I Love You When: For Boys.