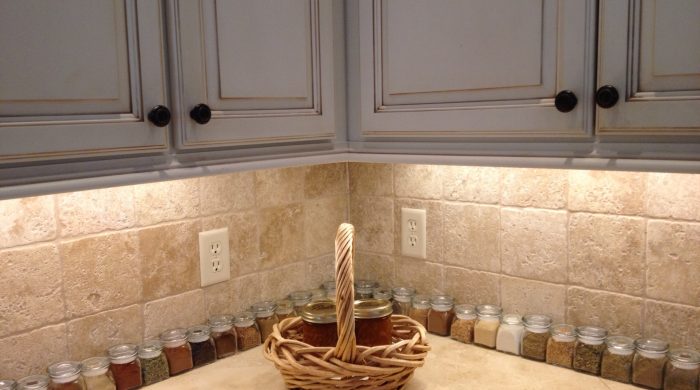 Spices! No matter what our level of cooking expertise, we all have spices in our kitchen or pantry. If you are like me, you have tried various ways to organize your spices. I have tried those cute little spice racks that come with adhesive labels. Some of them looked fairly attractive on my counter, but they were never large enough to hold all my spices. Or the labels included spices I never use. So, I'd buy another spice rack that held more spices and discard the old. But eventually, it was just the same issue. Some spices in the rack, but most of them stuck in a cupboard. My quest for the perfect solution for spice storage continued.
Then, a few years ago we moved into a lovely house with a gorgeous kitchen that includes pull out spice racks on either side of the oven. I imagined all of my spices lined in neat little rows, alphabetically ordered so that I could find them quickly. Ah, silly me. If I lived alone, I might be able to pull that one off. But let's just say that not everyone who uses the kitchen replaced the spices back into proper alphabetical order. I would even speculate that some did not see the value of alphabetical ordering. Some even thought it seemed silly. The spices also tended to slide when the sliding spice rack was pulled out, resulting in spacing issues. So, I spent a lot of time putting my spices back into alphabetical order and grumbling about those who carelessly dropped the spices back into the rack with no thought of organization (clearly a character fault!)
The years came and went and I remained in spice chaos. Then, just a few weeks ago, in a moment of sheer brilliance the solution came to me. My husband and I were shopping at Walmart and I spotted some small jars – Anchor Hocking 4-Ounce Emma Jar with Glass Lid, 6-Pack. And in a single glorious moment I found the solution to my lifelong quest for spice organization. Delighted, I started filling our shopping cart with the jars while my husband rolled his eyes. Let's just say he does not share my quest for spice organization.
As soon as we were home I pulled all of my spices out of the attractive (but not perfect) spice racks and lined them up across my counter in alphabetical order. I filled the sink with hot soapy water and washed every precious jar. As I dried them, I felt a bit smug and self-satisfied. After all these years, I was about to be master of my spices! I turned the television on and listened to a recording of Barefoot Contessa as I began filling the jars. It seemed appropriate. I have to confess, I found myself thinking that my spices were probably going to be even better organized than hers! I imagined that she would be quite jealous.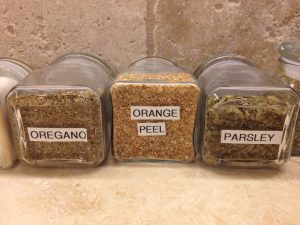 Since these were just plain little jars, and not part of a spice rack, there were no labels for identifying the spices. Ever resourceful, I asked my husband how to use his label maker. Which was a little tough, since I had made fun of him for buying it in the first place. After a bit of harassment, he showed me how to use it and I went to work making labels for every jar. I placed the labels on the bottom of the jars because I didn't like the way they looked on the side of the jar. My husband thought this was a poor choice (Mr. I never put anything back in alphabetical order), but I assured him it was the perfect choice. The jars would be lined up in alphabetical order and soon we would have them memorized by site. Furthermore, if he needed to "cheat" and look at the label, it was just a matter of tipping the jar over. He shook his head and left the room.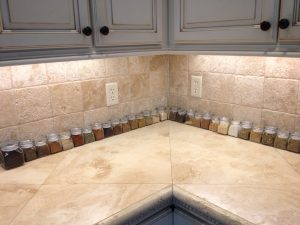 Alone again, listening to Ina Garten as she instructed how to make yet another delicious dish, I cleared a corner of my counter and began lining up the jars – from Basil to Thyme. As I lined them up, I realized this method truly was perfect! Let's say someone uses the garlic powder. Since the spices are now sitting on the counter instead of in a sliding drawer, there will be no movement. When the garlic power is used, there will be an obvious empty spot so it will be almost impossible for someone to not replace the garlic powder in exactly the correct location. Spice chaos eliminated!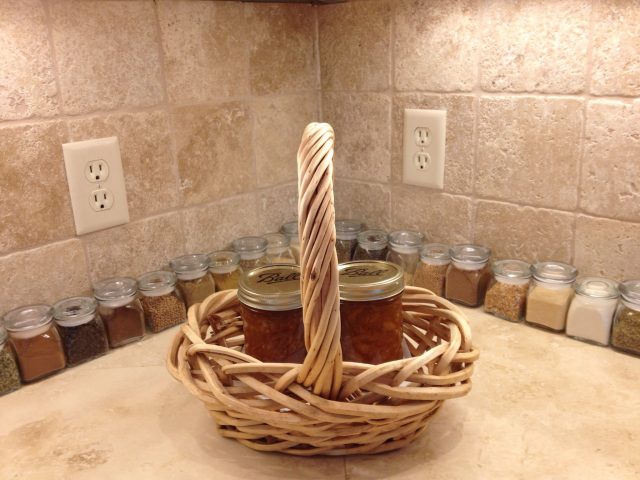 Well, it has been a couple of months since I placed the spices on the counter. Since I came up with this oh so creative and efficient solution. The only thing I have changed is adding a cute basket on the counter. Now, every time I cook my spices are easy to find. I feel organized and efficient. And you know who is even managing to replace the spices into their correct spots. Life is good. Yes, as silly as it may sound, organizing my spices gave me great satisfaction. Sure, there are some who might think this is a bit extreme, but chances are, if you have read this far, you are thinking about implementing my system yourself. Go ahead! Please do! The jars are inexpensive and you are going to love the results. I had to make a few trips to Walmart to buy mine (they didn't have many in supply), but you can also order directly from Amazon.
Cheryl Shireman is the bestselling author of several novels, including Broken Resolutions, the Life is But a Dream series, and the Cooper Moon series. She is also the author of ten books for toddlers including the eight Let's Learn About series focusing on different animals and I Love You When: For Girls and I Love You When: For Boys.