This is going to be a short entry. For, you see, it is very difficult to write (or even see) when you are alternately crying and laughing. For today, at this very moment, my first novel, Life is But a Dream is at an overall ranking (of ALL Kindle sales) of 1956. Wow! That means I am in the top 2000 of everything being sold on Kindle right now. Amazing!
And the book has been out for less than three months !!!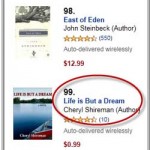 But here is the source of all of the laughter and tears – I am in the TOP 100 OF LITERARY FICTION!  I am at #99 – right behind my favorite book of all time #98 East of Eden. Come on! Really!?! I am imagining God giving me a little nudge and a wink. "Hey kid. I'm not only going to let you be in the top 100, I'm going to put you right next to John – just as a gift."
Of course, my ranking may have fallen out of the top 100 in the length of time that it takes me to write this.
But right now….it's just me and John.  🙂
Cheryl Shireman is the bestselling author of several novels, including Broken Resolutions, the Life is But a Dream series, and the Cooper Moon series. She is also the author of ten books for toddlers including the eight Let's Learn About series focusing on different animals and I Love You When: For Girls and I Love You When: For Boys.