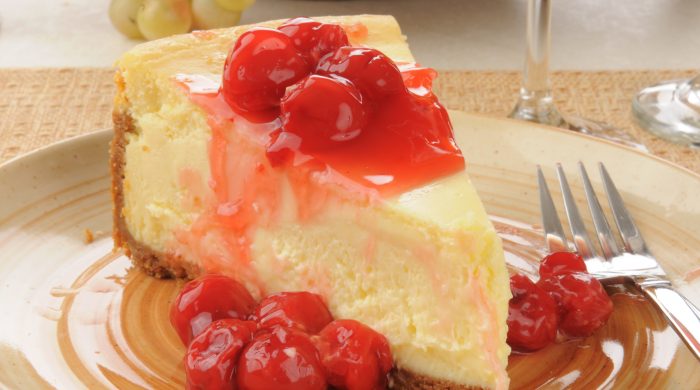 I am not sure of the origination of this wonderful recipe, but I have made it for years. When I was twenty-something and didn't know how to cook a thing, this was always my sure-fire go-to recipe for any gathering. To this day, I still love this recipe. Quick, easy, and delicious!
Also a great recipe to begin with when teaching children how to "cook" because no actual cooking is involved.
INGREDIENTS:
One 9″ prepared graham cracker crust
1/3 cup of concentrated lemon juice
8 ounces of softened cream cheese (leave out of refrigerator for a couple of hours)
1 teaspoon vanilla extract
14 ounces of sweetened condensed milk (NOT evaporated milk)
1 large can of cherry pie filling chilled
DIRECTIONS:
In large mixer bowl, beat cream cheese until fluffy.
Beat in sweetened condensed milk.
Add lemon juice and vanilla. Turn mixer to low and mix until just blended.
Pour into prepared crust. Chill three hours or until set.
Just before serving, top with desired amount of chilled cherry pie filling.
Great with a cold glass of milk!
Cheryl Shireman is the bestselling author of several novels, including Broken Resolutions, the Life is But a Dream series, and the Cooper Moon series. She is also the author of ten books for toddlers including the eight Let's Learn About series focusing on different animals and I Love You When: For Girls and I Love You When: For Boys.