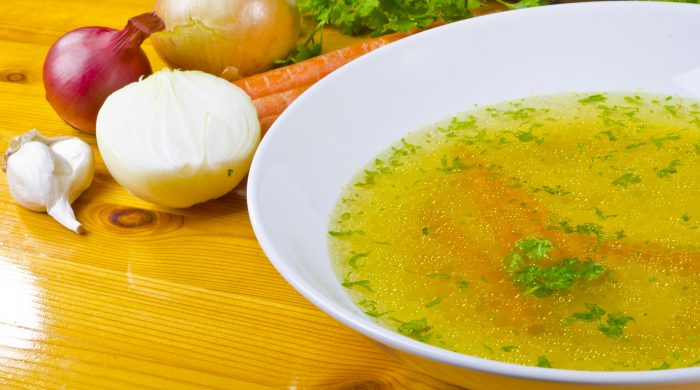 Chicken stock can be used in any recipe that calls for chicken broth. Homemade chicken stock is not only delicious, it is so fun to make! I'm not sure why, but there is something so satisfying about making a large pot of chicken stock and then pouring it into freezer containers. I always feel like I'm a pioneer woman stocking up for a long winter. Creating chicken stock fills your home with a wonderful aroma and it is a great way to use bits and scraps of vegetables and chicken.
Basically, chicken stock is created by simmering chicken, vegetables, herbs, and spices for hours and then draining all of the vegetables and freezing the remaining liquid. Many recipes call for whole chickens, and fresh ingredients, but quite frankly, it can be expensive to buy all fresh ingredients for chicken stock. Instead, I collect bits and scraps of vegetables I need to make chicken stock and store them in my freezer in a zippered gallon freezer bag. For example, whenever I cut an onion, I cut the top and bottom of the onion off and then drop those parts into my freezer bag. I do the same with the tops and bottoms of carrots and celery stalks. Whenever I make any chicken dish, I also freeze any chicken scraps. If I roast a chicken, after cutting most of the meat from the bones, I drop the leftover bones and residual meat into the freezer bag collection. Eventually, I have enough scraps to make my chicken stock. I then buy fresh herbs and make the stock with my freezer bag scraps.
Or, sometimes when I roast a chicken I immediately put the leftover carcass and bones into my stock pot, add my frozen vegetables, and then add whatever fresh vegetables I need to make up the difference. Very often when I bake a chicken dish it requires the same vegetables that I need for the chicken stock, so why not go ahead and make the stock then?
For me, the whole process is so fun. I love seeing that big pot simmering away on the stove and the house is filled with such a wonderful aroma. Then when the stock is done, I drain it and fill up some freezer containers. I'm not sure why, but I love placing those blue-lidded freezer containers of chicken stock into the freezer in neat little rows.
Give it a try! I bet you will think it is fun too!
Ingredients:
5-6 pounds of chicken (this can be composed of whole chickens or pieces – fresh or frozen scraps)
4 large onions, unpeeled and quartered (or equivalent in frozen scraps)
4 stalks of celery with leaves, cut into thirds (or equivalent in frozen scraps)
6-7 carrots, unpeeled and cut in half (or equivalent in frozen scraps)
15-20 sprigs of fresh dill
15-20 springs of fresh parsley
15-20 springs of fresh thyme
1 large head of garlic, unpeeled and cut in half crosswise
2 tablespoons salt
2 teaspoons whole black peppercorns
Directions:
Place all ingredients in a 16-20 pound stock pot (I use an Update International SPS-20 SuperSteel 18/8 Stainless Steel Induction Ready Stock Pot with Cover, 20-Quart, Natural. It is reasonably priced and works very well. I started making stock with a Dutch Oven, but it was always too close to overflowing so I splurged and bought this large stock pot. It will pay for itself every time I pass by those cans of chicken broth in the store!).
Add 8 quarts of water and slowly bring the mixture to a boil on medium heat.
Simmer uncovered for 4 hours.
Place a colander into a large mixing bowl and dump entire contents of your stock pot into the colander. Lift colander from mixing bowl and give it a few gentle shakes to drain remaining liquid into mixing bowl. Discard contents in a deep colander. I use aNorpro KRONA Stainless Steel 5 Quart Deep Colander but any good colander will work (I know, it seems like such a waste to discard the vegetables and meat but the flavor is now in your stock and these bits and pieces have little flavor).
Use immediately or pour into freezer containers (I useZiploc Twist 'N Loc , Medium Round, Containers & Lids) . Don't fill all the way to the top because the liquid will expand in the freezer a bit and form a dome in the container.
If you want to reduce the amount of fat in your chicken stock, after the stock has frozen, just scrap the fat from the top of the container where it will all be collected. Personally, I leave it in for most dishes. Use in any recipe that calls for chicken broth or chicken stock.
Cheryl Shireman is the bestselling author of several novels, including Broken Resolutions, the Life is But a Dream series, and the Cooper Moon series. She is also the author of ten books for toddlers including the eight Let's Learn About series focusing on different animals and I Love You When: For Girls and I Love You When: For Boys.